Better Health Program - Mirrabooka
Youth Truck - City of Joondalup
This semester we have had the privilege of the Youth Truck visiting West Coast Secondary Education Support Centre.
The students have spent time engaging in activities such as drawing, video games, sensory activities i.e. Orbie stress balls. This has provided the students with a safe space to share with their peers with the support of the youth workers Amanda and Ryan.
We look forward to having the opportunity again in 2022.
Ms Shannon Talbot, Teacher
Thank You West Coast!
The following 'Thank you' was published in the WAECSSA Newsletter. Well done to Mrs Woods and the students in work skills!!!
Thank you to the amazing students from West Coast Secondary ESC for their hard work in
filling our delegate bags for this year's conference. As part of their work skills course the
students managed to fill over 300 bags with sponsor samples and literature in time for
conference. The school is always looking for simulated work tasks to develop the students'
skills. Anything from filling bags with advertising material, placing baking paper inserts in
fish and chip containers and folding foil strips for hairdressers. So if there are any schools
or companies that would find this service beneficial please spread the word.
Area H
It has been a fun year in Area H. The students have had the opportunity to participate in activities that will help them get ready for when they leave school.
The students in Area H spent term three participating in the Barista Busters program, where they were given opportunities to work in a simulated café. Through this program, they are required to make coffees, take orders and show appropriate customer service to staff throughout the school. As the term progressed the students had developed their independence and were able to participate in the program, with minimal staff support.
In week ten of Term 3, the students in Area H and Area F went to Karrinyup shopping centre, to demonstrate that they have the skills to behave appropriately on public transport, as well as within a communitysetting, but also to show that they are able to stay within a fixed budget when they go on an outing.
Mr Anthony Raschilla, Teacher
You Can Do It! - Colour Explosion
After a year of ups and downs, 2021 saw the return of our You Can Do It colour explosion fun run – a day where students could put all their You Can Do It Skills into action. This year we partnered with the Alannah and Madeline Foundation, to raise money for children and families in need. Students participated in an online fundraiser in the lead up to the day, with prizes available to those who reached a variety of fundraising goals.
Students started the day with a visit from our special guest speaker, Paralympian Brant Garvey. Brant, a congenital above knee amputee, shared his story of rising to the top of his sport, overcoming obstacles and having a "No Xcuses" mindset when it came to achieving his dreams. Students had the opportunity to ask Brant questions about his life, including what it was like to grow up with an artificial leg, how much time and money he has to put into his training and what his goals were for the future.
After recess, students made their way out to the oval where they participated in three different rotations – The Obstacle Course; The Zorb Balls and Inflatable Dart; and the Colour Explosion Fun Run. Each activity challenged the students to use their Confidence to try something new, their Persistence to keep going for the whole 25 minutes, the Resilience to bounce back when it got tricky, the Organisation to move quickly between the activities, and the Getting Along skills to support each other and make sure everyone was having a good time.
Students were particularly fond of the foam pit and water pistol stations, with some transforming themselves into top-to-toe bubble monsters! Coloured chalk was worn like badges of honour, and we even had a special visit from Mitchell's dog, who also came out stripy and colourful. Lunch was served on the grassed area, with students and their families being treated to a sausage sizzle cooked by staff and students.
At the conclusion of the day, students had raised over $800 for our chosen charity, with prizes presented to the fundraisers at our end of year You Can Do It! assembly. Congratulations everyone – You Did It!!!
Mrs Tara Murphy, Teacher
Enterprise - Christmas Market
2021 has flown by!
It has been another busy and creative year in Art & Enterprise. We have had upper school students for double periods this year, and have been pleased with their ability to apply themselves when working at projects for longer periods of time. This has enabled them to develop their focus and skills to a higher level, and the results speak for themselves.
Creating products to sell at our market has been the main focus for our students this year. The fantastic results were evident in the range and quality of products for sale during our annual Christmas Market, held in week seven this term.
A big thanks goes out to all of the students and staff who worked with us in the Enterprise Room to create in 2021!
Mrs Gaye Yanev & Mrs Sue Kelly, Education Assistants (Art & Enterprise)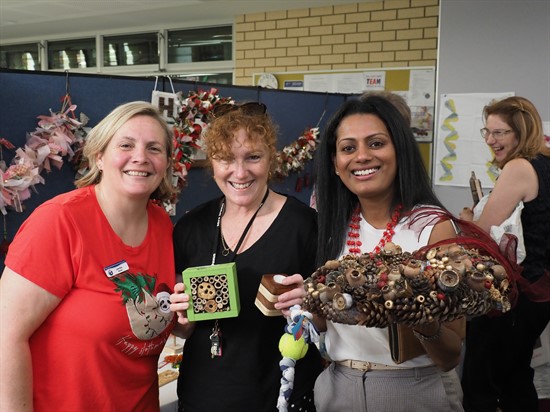 Physical Education
What a fun and exciting year it has been for the students of West Coast SESC in Physical Education!
Throughout this year, students have participated in a large variety of sports including water polo, cricket, basketball, soccer, AFL, T-ball, athletics and dodgeball.
Students have learnt not only the rules and specific movement skills needed for each of these games, but also the social skills needed to work together in a team. Our students have demonstrated excellent interpersonal skills, clear communication, and great sportsmanship and leadership skills throughout Physical Education lessons.
West Coast hosted the 2021 Act–Belong–Commit WADSA athletics interschool carnival, with Kensington Secondary School and Dianella Secondary ESC joining us for the day's activities. Students participated in a large variety of both unmodified and modified athletic events on the day, such as sprints (50m, 100m, 200m), club throw, shotput, and precision throw. Thre was also a large amount of other sideshow games for students who needed more support to engage. It was a great day to see our students and the students from other education support schools, giving the activities their all!
West Coast students in lower and middle school classes have participated in swimming lessons during weeks seven and eight of Term 4. The swimming lessons were held at Leisurepark Balga, where we filled the pool with around 40 participating students. Swimming classes were separated not by year level or class area, but rather by our students swimming ability. This provided our students with an opportunity to engage with students from different classes, and benefit from having the lessons catered to their particular swimming capabilities. Our staff willingly got in the water to help some of our students who needed extra support. The staff then helped our students get changed and ready for the bus, in order to get back to school in a timely manner.
The students made West Coast SESC proud with the way that they conducted themselves during the two weeks of swimming lessons. After the success of this year's swimming lessons, we can't wait for the lessons at Leisurepark Balga next year!
Our students should be very proud of the effort and the willing spirit that they have carried into each session of Physical Education this year!
Well done, West Coasters!
Mr Ryan Kopple, Teacher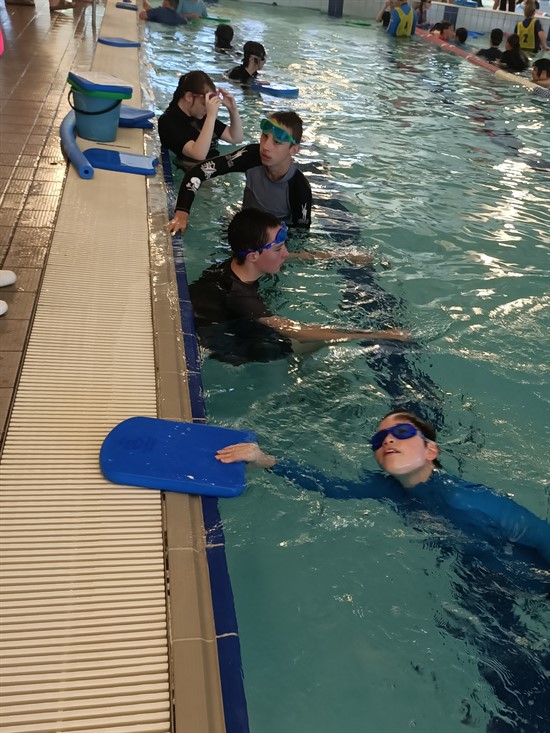 Back to School - Tudor Uniforms
Term 1 2022 Planner
Lower School Camp
The West Coast SESC Bush Rangers lower school camp was held at the Swan Valley Adventure Centre. Tuesday morning saw excited and eager Year 7 and 8 students and staff, board the bus and depart for the centre. When students arrived at the camp site, the excitement and eagerness continued throughout the activities, which included the Flying Fox, the Commando Course and various team building exercises. It was very impressive to see the courage, resilience, dedication and motivation displayed by all of students throughout the day. Students supported and encouraged their peers, were willing to try new experiences and took safe risks in a supportive environment.
Early Wednesday morning, after bags were packed and dorms were cleaned, students were delighted to be greeted with a full cooked English breakfast. With happy and full bellies, the students departed Swan Valley to go to Scitech. At Scitech, the students had the opportunity to explore the Scitech Discovery Centre, where they experienced a wide variety of interactive exhibits which encouraged students to think, create and share. Students then went to the planetarium, where they watched Moonbase ONE. They were able to explore the Moon through the eyes of a virtual reality game designer.
It was an absolute pleasure to see the cadets overcome their fears, achieve their goals, and form new friendships. Great fun was had by all, and we look forward to another Bush Rangers camp next year!
Ms Amy Mulholland, Teacher
Photography MultiMedia
Photography has moved locations this year, to a shared IT and Photography room, which has been equipped with new computers and new editing software.
There has been an increase in the number of students participating in the ASDAN component of the program. We had four Dianella students, along with four of our own students, participating in the one year program. This year, we introduced a two year ASDAN program, which has worked well. ASDAN is an integral part of the Photography and Multi Media program, with an ASDAN certificate being gained by students that complete all parts of the curriculum. Whilst ASDAN has a formal component, students are also provided with an enjoyable and informative environment in which to nurture their artistic abilities, by capturing inspiring photographs. The ASDAN program receives a formal assessment of the students' work from the year, with this usually occurring in September.
In the non-ASDAN component of the program, students partake in a Photography learning path, which involves familiarising themselves with DSLR cameras and the school's latest photo editing software.
We have purchased new software this year, called Luminar 4. This software is advanced and acts as Photoshop's main competitor. The students have grasped the new software very quickly and their editing skills have developed correspondingly. This software is enabling the students to reach a new standard of output for their photographs, which is pleasing to see.
Students who are new to Photography are provided with a pathway that commences with the basic use of the camera and its components, such as basic camera holding techniques, and basic uploading and editing. All components of learning are then increased to higher levels at a graduated rate, in line with the student's abilities.
This year, the Photography students have been able to utilise the larger facilities of the new room, with new computer and camera access, enabling further development of their skills.
Each year, the Photography students enter the largest student photo competition in WA, Focus Environment Photo competition, which is sponsored by Chevron and run by 7 Media West. This competition is open to all students from all schools, including mainstream and private colleges. A record number of student entries, some 1700 from across Western Australia, entered the competition this year. It's so pleasing to say our students came in second in the state for the number of prizes and prize money won. This is on top of two years of coming achieving first in the state for number of prizes and prize money won. A truly outstanding achievement for the Photography students of WCSESC!
In the past five years, WCSESC students have won, for themselves and our school, a total of just over $14,000 in prize money. Below are the winning photos from the 2021 Chevron 7 Media West photo competition.
Mr Steve Yanev, Mrs Maggie Niven, Ms Ginny Brown
Middle School Camp
This year, our Year 9 and Year 10 students enjoyed attending their Middle School Camp at the Swan Valley Adventure Centre. Here, the students were able to engage in a variety of adventure based activities such as abseiling, possum glider, commando course, the Black-out Zone and many more. These activities allowed the students to step out of their comfort zone and push themselves further than they would normally. It was fantastic to see the students pushing themselves and supporting each other to achieve their own personal best!
The catering at camp was another highlight for many students, as they were able to enjoy a range of delicious meals prepared by the amazing kitchen staff at Swan Valley Adventure Centre. I think it is safe to say that nobody went hungry at camp!
Well done to all the students for their amazing behaviour and their positive attitude towards all activities on camp. You are all great role models to the younger students and great ambassadors for the Bush Ranger program!
Mr Zac Redknap, Teacher
Area D
The students in Area D have been very busy this term, not only with their work in the classroom, but with the many extra-curricular events and activities that have seen them demonstrate the You Can Do It keys of persistence, confidence and resilience, to push themselves out of their comfort zone and try new and exciting things.
Camp at Swan Valley Adventure Centre was a highlight as the students flew on the flying fox, demonstrated their trust in others by being led blindfolded through obstacle courses, and spent time together in groups outside of their own classroom. There was a lot of fun and laughter (and delicious food) in the dining room and also at night, as everyone settled down to watch a movie before bed in the dorms. The following day at Scitech, the students explored many exhibits and hands on experiments, before finishing the day viewing the Moonbase One movie in the Planetarium Imax Dome.
The Colour Run was another fantastic day, with students having the best time as they ran through the colour stations and foam pit, getting saturated by staff with water guns along the way! The giant blow up obstacle course and dart board were also a hit, with students having a go at everything, and eventually returning to the classroom exhausted!
Then, just as we thought it was time to relax, swimming lessons started! The students were extremely well behaved as they participated in small group lessons at Balga Aquatic Centre.
It's been a fast paced, interesting and fabulous term for everyone and I think we are all ready for a holiday!
Mrs Erica Waldock, Teacher
Area K
This term has flown by! The students in Area K have had yet another busy term, with lots of activities!
In week one we attended another school camp at the Swan Valley Adventure Centre. Students enjoyed team building activities, an escape room, abseiling and the possum glider. It was really great to see students taking risks and demonstrating all the You Can Do It keys to combat their fears and try new activities that were sometimes out of their comfort zone.
We completed our Recycled Art project in Term 4, decorating the school with Halloween themed creations such as hanging bats, big pumpkins, spiders and spider webs. The students learned all about the impact of plastic waste on the environment. They learned what items can be recycled or re-used, and completed the majority of the projects using recycled materials and items from Remida (a recycling facility in Perth.) A special thanks to Stephanie Murphy from the Friends of Warwick Bushland, who came in to run the sessions with us.
A special mention goes to Elijah, our year 10 student who completed his Certificate 1 in Leadership Course, followed by a one week block placement at Activ Industries this term.
In week five, students participated in the You Can Do It Colour Run day. The students enjoyed the inflatable obstacle course. Mason loved the bubble machine and spent a long time enjoying the sensory experience. Students got nice and colourful doing the colour run, getting squirted by water guns and sprayed in all the colours of the rainbow! They then enjoyed a sausage sizzle lunch.
As part of our PE sessions, we attended the Warwick Gym to complete a gym session in week six and nine of Term 4. Students learned about gym etiquette, participated in a warm up session and then explored the different cardio and weights equipment that was on offer. After we finished at the gym we enjoyed a nice lunch at the Warwick café, before walking back to school.
In week seven and eight students attended swimming lessons at the swimming pool in Balga. They did well showing us their skills in the water. It has been an absolute pleasure teaching the Area K students this year.
I wish everyone a safe and restful holiday break and I look forward to seeing everyone's smiling faces in 2022! Special thanks to my amazing team of EA's; it has been a pleasure working with you all.
Mrs Christine Abbott, Teacher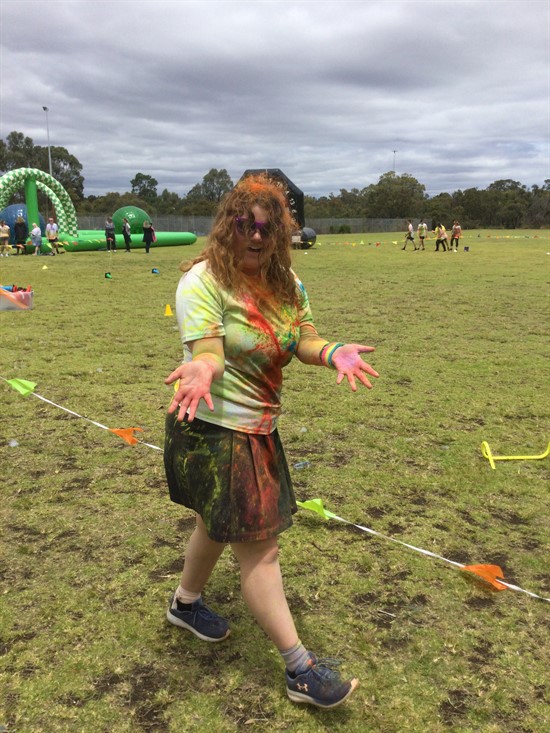 Stephanie Alexander Kitchen Garden
As part of the SAKGF philosophy, our focus was to work with students to create their own kitchen garden and to use the vegetables grown to make tasty, fresh food.
This year, we grew a range of vegetables and edible flowers to cook with. At the beginning of the year, we focused on growing rocket, kale, parsley, basil, snow peas and tomatoes. Once we harvested our fresh vegetables, we took them to the Life Skills room and cooked gourmet delights such as rocket and parsley herb butter, silver beet and fetta pastries and stir-fried vegies. These were a great success! Later in the year we planted edible flowers (calendula and nasturtiums), corn, tomatoes, zucchini, radishes, and our all-time favourite - sunflowers.
The students enjoyed picking the nasturtium and calendula flowers; however, even after watching several cooking videos about using these flowers to decorate cakes or salads and making iced teas - there were still some sceptical faces when it came to actually eating the petals or drinking the iced tea. It was fun to try these new tastes, and to laugh at the funny faces people made.
Happy gardening and cooking.
Mrs Katie Gill and Miss Leisa Graham, Teachers
Breakfast Club
Breakfast Club has been running again on a daily basis this year, providing students something nutritious to eat and drink between 8:30am and 8:40am.
Depending on the circumstances, some students may skip or avoid having breakfast at home, which makes this club a significant part of their day. As we know, breakfast is an important meal for growing children, especially in how it affects their learning, as it helps concentration and focus in class, when there is something in their stomachs.
Our Breakfast Club provides mostly toast, with a variety of spreads, and having a cup of milk is very popular with the students. We also provide some fruit and cereals, for those who like something other than toast.
The Breakfast Club is much more than just feeding the students, it creates an amazing atmosphere first thing in the morning, with the students socialising and learning how to be more self-sufficient. The number of students that partake and have something to eat and drink varies from day to day, but the average number of students and staff is about 15.
Next year we are planning to have the occasional morning with different foods like a Pancake Day Breaky or Croissants with ham and cheese. When these days occur, we will inform the students beforehand so they can come prepared for a delicious breakfast.
Mr Malcom Harding, Chaplain
Landsdale Farm
As part of our ASDAN and work placement programs, several lucky students attended the Lansdale Farm school each Friday. Each week we enjoyed learning about Animal Care and Gardening in a practical and hands-on environment. Naye and Byron started off the year caring for the chickens, by cleaning their coops and feeding them grain and fresh greens. As the year progressed, we helped to feed the pigs and the cow too. Caitlin, Blake and Adam spent many weeks grooming and walking Duncan the goat, while we researched how to care for individual animals, including calculating an annual budget for keeping an animal of choice. Other hands-on jobs we did at the farm included bottle feeding baby goats, collecting and candling eggs, grooming the miniature horse and handling the rabbit and guinea pigs.
In the gardening sessions we created posters to explain how plants reproduce, and discussed the differences between annual and perennial plants. Over the course of the entire year we committed to growing and maintaining our own four garden plots at Landsdale Farm, which provided multiple harvests of tomatoes, silver beet, snow peas, carrots, beetroot, rocket, kale, radishes and pak choy. In addition, we found fruit laden mulberry trees at the farm, so whenever we had a spare moment, we picked mulberries – to eat and to use in tie dying!!
Luca joined the farm crew just in time to enjoy the spring season, with new chicks hatching and our vegie garden overflowing with plants to pick, water, and weed. We also grew native flowers and had a great time picking everlasting daisies and swan river daisies, to press in old books and preserve.
I hope that the students are using their great practical skills with their own gardens or animals at home too! I also wish to congratulate Adam and Blake, who successfully completed the ASDAN Short Courses in Animal Care and Gardening.
Happy holidays.
Mrs Katie Gill, Teacher
TEACCH - Area E
It has been another very busy term in Area E.
All students are now using their work boards to locate and set up their TEACCH boxes, with most now doing this independently. So many new skills have been learnt this term, e.g. tying knots, clipping things together, putting an elastic band around an object and stamping within the correct space.
We have done another 80 food packs for "We Care", to be distributed to homeless people in need. We also have ongoing work from REmida. Students have enjoyed pairing and knotting shoelaces, as well as unpacking and sorting various items for them.
Our blank cards, which we made from recycling 2021 calendars, have been selling well. Some students can now independently put the stickers on the back, and place the card and envelope into the cellophane bag. One group of transition students for 2022 have also had a session in Area E.
I'd like to thank the staff that came into Area E to support the students for their support, it would not have been possible without them.
Mrs Karen Woods, Education Assistant (TEACCH Program)
Guitar and Drums
This year, we have seen a number of new faces commencing guitar and drums. These have included Seth, Samantha and Shenaye playing guitar, and Jared, Samson and Ella playing drums.
There has been a bit of a change in the student line up, as new learning opportunities have attracted some students to music, while some existing music students have decided to follow a different path.
The students that have chosen music have found the skills learnt this year a bit more challenging than those learnt in the past; however, as the year draws to a close, I have seen a marked improvement in the strumming and picking technique demonstrated by most students playing guitar, and a consistent rhythm developing amongst our drummers.
Persistence is the key to learning any musical instrument, and those that have persisted with either guitar or drum playing will be rewarded in time, as their skills improve and they become proficient in playing their chosen instrument.
Congratulations to all students for the progress you have made this year. I look forward to your continued success with your chosen instrument in 2022.
Mr Vas Nikola, Teacher
Principals Message
As we come to the end of 2021, we can celebrate, with pride, the achievements of our students in Term 4. You will find further details and photographs of the events as you read through this newsletter.
We started the term with a Middle School camp where students stayed overnight at Swan Valley Adventure Centre. A few days later, we were back at Swan Valley Adventure Centre for the Lower School camp – with students sleeping overnight at the camp after a day of exciting activities, then attending Scitech the next morning before returning to school.
We had lots of visitors to the school this term. We held our annual school reunion at the end of October and approximately 25 of our previous students attended. It is always so nice to see their excitement when they catch up with their old friends! We had three transition visits by Year 6 students – two half days and one full day, which included an afternoon tea for parents. The students coped really well with the visits and we look forward to welcoming them next year. We were delighted to welcome our local MP, Jessica Stojkovski MLA, who visited the school in November to discuss the funding that we have been allocated - just over $2 million - for a pool refurbishment, to make it accessible for students with disabilities. That work should commence in 2022 and be completed in 2023.
November was a busy sporting month and included the Kalability Soccer Carnival, where we won the "Perpetual Values" award. This award was for demonstrating good teamwork and positive attitudes and we were very proud of our students for being such excellent representatives. The award was presented to us by our Director General, Lisa Rogers. We also hosted the WADSA Carnival in week five, and invited another two schools to join us in this event. It was great fun and the students really enjoyed meeting the students from other schools. Swimming lessons for students in Years 7 – 10 commenced in week seven and went for two weeks. Hopefully soon we will have our swimming lessons in our own pool!
Our students entered the 2021 Chevron photography competition - an annual event which attracts almost 1700 entries from schools across WA. Our students took out a first, second and third prize in their age categories and four Beazley Encouragement awards. We are the most awarded school in WA and have won approximately $14,000 altogether over the last four/five years – half of which is for the school and half for the students! What an achievement!
The Christmas Enterprise Market – where all items are made by our students – was held on the 24th November. This is always a really lovely day, as the items are beautiful and the students take great pride in seeing people purchasing objects they have created. The left over items were then put on sale at the end of year assembly night. Several of these were put up to be raffled and that will be drawn on the last day of term.
Term 4 is a big term for our student Leavers. It is the end of their school life chapter and the beginning of the rest of their lives. It is always an emotional time and we want them to leave feeling that they are very special. They were invited to attend our annual Leavers' Breakfast, which was held at the Purple Goat at Hillarys' Boat Harbour on 29th November. The following day - 30th November – was the last day for our Leavers and finished with our whole school, End of Year Assembly. It was a lovely evening and we welcomed some very special guests: Jessica Stojkovski MLA; Diane Trezise, Coordinator Regional Operations from North Metro Education Office; Donna Ironmonger, Community Liaison Officer from the City of Joondalup; Imogen Winsborough, Community Partnership Advisor for Scitech; Frank Musiello, Business Development Manager from Activ Pathways; Lesley Wintle, Principal of Warwick SHS; and David Wilson, our School Board Chair.
In week 10, students moved to their new classes so that they could have a few days to settle in before the holidays. We find that this transition day reduces the stress levels during the holidays, which can only be a good thing for everyone!
Our student numbers will be over 100 in 2022. The two new transportable classrooms we will need for these increased numbers have already been allocated and will be positioned, over the Xmas holidays, on the existing cricket pitches – behind our current transportables.
The staff and students of West Coast are amazing, and the students are provided with fantastic opportunities. I would like to thank them on your behalf. I look forward to another fabulous year in 2022.
Carol Clarke, Principal